Meet Our SAB & Consultants
A New Convenient Treatment, BKR-013, for Type 2 Diabetes
The need for new treatments for diabetes is very large. Current treatments are far from ideal, ranging from oral drugs and injections that enhance insulin sensitivity and output to injected insulin.
These therapeutic approaches are fraught with challenges to the patient and to the medical profession. The biggest problem with currently used drugs for diabetes is the propensity for side effects, some serious, which led to restrictions in their use. Also, those drugs are not fully effective and their efficacy wanes over time, leading to the need for combinations of two or more drugs to control diabetes. Some of the newer, more effective drugs are injectable, therefore are inconvenient to administer, and expensive to manufacture.
BioKier's novel therapeutic will be an oral, once-a-day pill and will address a putative causative factor of diabetes rather than just the symptoms. Furthermore, BioKier's treatment addresses a major concern of the FDA and medical community, that some current diabetes drugs increase the risk of heart disease. BioKier's treatment, because it restores normal physiology, promises to be beneficial to the cardiovascular system, lower triglycerides, and cause weight loss.
Scientific Advisory Board
Michael C. Camilleri, M.D., Mayo Clinical (Rochester, MN)
Dr. Michael Camilleri has been Professor of Medicine and Physiology in the Mayo Clinic College of Medicine since 2001. He also serves as Scientific Advisor of Irritable Bowel Syndrome at Ocera Therapeutics. Dr. Camilleri joined the staff of the Mayo Clinic in 1987. He serves as President-elect of the American Neurogastroenterology and Motility Society (ANMS) 2007 and as a member of the SAB of Edusa Pharmaceuticals (formerly Dynogen Pharmaceuticals) and Synergy Pharmaceuticals. He served on the Governing Board of the ANMS from 1996 to 2000, and as Chairman of Clinical Practice Section from 1997 to 1998. He has authored over 300 articles, co-authored three books, and has served on the editorial boards of a number of journals. Dr. Camilleri has a long list of awards, including the Mayo Clinic Department of Internal Medicine's Outstanding Investigator Award. He received his undergraduate training and medical degree from his native Malta in 1975, and got academic and clinical training at Hammersmith Hospital and the Royal Postgraduate Medical School in London. His received a Masters degree from the University of London, and he was elected to the Fellowship of the Royal Colleges of Physicians of London and Edinburgh.
David D'Alessio, M.D., Duke University
Dr. D'Alessio is Professor of Medicine, and Director of the Division of Endocrinology, Metabolism and Nutrition at Duke University Medical Center. He recently moved to Duke from the University of Cincinnati where he was Director of Endocrinology. Dr. D'Alessio has received national recognition for research on gastrointestinal hormones and the regulation of insulin secretion. He has published widely in this area, as well as in related aspects of energy metabolism and nutrition. Dr. D'Alessio is ABIM certified in Internal Medicine and Endocrinology and attends the Diabetes and Endocrine clinics at Duke University Hospital and the Durham VA hospital. He is a member of the Endocrine Society and American Diabetes Association. The primary focus of Dr. D'Alessio's research is the regulation of insulin secretion and glucose tolerance in type 2 diabetes, and specifically the influence of intestinal hormones on these processes. In addition, he has additional projects to investigate the actions of GI peptides to control food intake and body weight. Central themes that are common to all of this research is the interaction of ingested nutrients with endocrine signaling systems, and the interface between hormones and the nervous system. The overall goal of this work is to better understand the physiologic mechanisms underlying nutrient metabolism and apply this knowledge to the treatment of diabetes and obesity.
Fiona M Gribble DPhil BM BCh, Addenbrooke's Hospital, Cambridge, UK
Dr Gribble is Professor of Endocrine Physiology and Honorary Consultant in Clinical Biochemistry at the University of Cambridge, and is based in the Cambridge Institute for Medical Research and Institute of Metabolic Science. She trained in Natural Sciences (Cambridge) and Clinical Medicine (Oxford), and is a Fellow of the Royal College of Pathologists and the Society of Biology. The primary focus of her research is to understand the mechanisms underlying the secretion of gut hormones, with a view to identifying novel targets and pathways in enteroendocrine cells that could be exploited to target endogenous gut hormone release for the treatment of metabolic diseases. Her approaches are based on the use of electrophysiology, fluorescence imaging and molecular biology to study the molecular events involved in stimulus detection and hormone secretion in intestinal endocrine cells. Her work has been recognised by the receipt of several awards, including the Lister Research Prize (2006), the Diabetes UK RD Lawrence Lecture (2008), the EASD Minkowski Prize (2010) and the Viktor Mutt Medal (2012).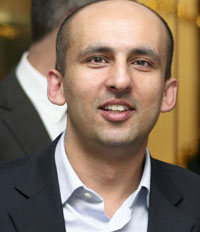 Professor Abdul Basit holds the position of Professor of Pharmaceutics at the School of Pharmacy, University College London (UCL)
Abdul is a Pharmacist by education and received his PhD in Pharmaceutics in 1999. Abdul's research sits at the interface between pharmaceutical science and gastroenterology, forging links between basic science and clinical outcomes. He is an international authority on oral drug delivery and absorption, and has published over 300 papers, book chapters, abstracts and patents. He leads a large and multi-disciplinary research group, and the goal of his work is to further the understanding of gastrointestinal physiology by fundamental research. So far, this knowledge has been translated into the design of new technologies (incl. COLAL™, PHLORAL™, ProRelease™ and DuoCoat™) and improved disease treatments, many of which are currently in late stage clinical trials. Abdul is the recipient of the 2004 Young Investigator Award in Pharmaceutics and Pharmaceutical Technology from the American Association of Pharmaceutical Scientists (AAPS), and is the only non-North American scientist to receive this award. He is also the recipient of the 2014 Academy of Pharmaceutical Sciences (APS) award. He is a frequent speaker at international conferences, serves as a consultant to numerous pharmaceutical companies and sits on the advisory boards of healthcare organisations and charitable bodies.
Fran Martin, RPh, VVI, LLC
Fran Martin is an accomplished pharmaceutical executive with end-to-end commercialization expertise encompassing discovery, development, launch and lifecycle management . While at GlaxoSmithKline, Fran played significant roles in successfully launching four products across the HIV, neurosciences, respiratory, and overactive bladder therapeutic areas. She built market presence and established unique and differentiated product platforms through her ability to marry exquisite customer insight with extensive knowledge of the scientific data and regulatory environment. From 2005-2010, Fran held the position of Vice President of Global Product Strategy, Infectious Diseases, where she re-invented the product strategy and re-established the corporate ID pipeline, through a range of in-licensing, partnering, risk sharing, and investment deals. This diverse approach resulted in 5 early discovery antibiotic collaborations yielding PoC in 18 months and established ViiV Healthcare, an independent HIV company, through an 85/15 (GSK/Pfizer) business collaboration. Other leadership roles included such diverse areas as Marketing and Sales, R&D, Business Development, Managed Markets, Patient Advocacy and New Product Planning. Fran holds a Bachelor's degree in Pharmacy from the University of Pittsburgh, where she graduated Magna Cum Laude. She continues to practice pharmacy at the Open Door Clinic providing outreach to underserved communities and serves on the board of the Cystic Fibrosis Foundation of the Carolinas.
Kishore M. Gadde, MD, Professor and Fairfax Foster Bailey Endowed Chair in
Heart Disease Prevention, Pennington Biomedical Research Center
For the past two decades, Dr. Gadde's research focus has been obesity and
related metabolic disorders, especially in developing and testing new
pharmaceutical interventions. He has served as the signatory lead investigator of
several phase 2 and phase 3 trials in obesity and type 2 diabetes including the
phentermine/topiramate combination therapy, autoinjected exenatide, and
cotadutide and presented safety data the FDA meeting. He is a principal
investigator of the long-running Diabetes Prevention Program Outcomes Study
(DPPOS).
He has numerous publications as the first author or senior author in high-impact
journals including The Lancet, JAMA, Annals of Internal Medicine, Archives of
Internal Medicine, Circulation, and JACC.
Adrian Vella MD, Mayo Clinic College of Medicine
Dr. Adrian Vella has been on staff at Mayo Clinic Rochester since June 2001 and is a Professor of Medicine in the Mayo Clinic College of Medicine. Dr. Vella is a graduate of the University of Malta Medical School (1993). He subsequently came to Rochester for his Internal Medicine Residency in 1995 and was subsequently accepted to the Clinician-Investigator track of Endocrine Fellowship training program and completed this in 2001. Upon completion of his fellowship, Dr. Vella was awarded a Mayo Foundation Scholarship and spent 2 years working in the Diabetes and Inflammation Laboratory of Professor John A. Todd in Cambridge, UK. He returned to Rochester in June 2004. Currently, Dr. Vella is the research chair for the endocrine division. He is the recipient of two R-01 grants from the NIH and spends half his time in research. His clinical interests focus on the diagnosis and management of hypoglycemic disorders. His research interests focus on the pathogenesis of pre-diabetes and the interaction between the gut and the pancreas in bariatric surgery.
L. Kristin Newby, MD, MHS, Professor of Medicine, Cardiology, Co-Director, Duke Cardiac Care Unit, Duke University Medical Center
Dr. Newby is Professor of Medicine in the Division of Cardiology, Co-Director of the Cardiac Care Unit at Duke, and focuses on optimizing the process and quality of care delivery to patients with acute and chronic coronary artery disease.
Dr. Newby has led multiple phase II, III and IV clinical trials of new therapies and treatment strategies for acute coronary syndrome and chronic coronary disease patients and of the mechanisms through which these therapies work. She has also been the principal investigator of multiple studies assessing the use of novel protein biomarkers to enhance risk stratification and guide treatment selection in cardiovascular disease, and is currently pursuing the application of genomics for this purpose. She has authored more than 260 peer-reviewed publications. Dr. Newby's general research interests include clinical trials of new treatments for and risk stratification of patients with acute and chronic coronary artery disease, discovery and application of biomarkers in the diagnosis and treatment of cardiovascular disease, and unique issues related to heart disease in women.
A member of the Steering Committee for the Duke CATHGEN biorepository, Dr. Newby also serves as principal investigator of the MURDOCK cardiovascular disease project, Reclassifying Risk for Cardiovascular Events, and is a co-principal investigator for the MURDOCK Study 50,000-patient Community Registry and Biorepository in Cabarrus County and Kannapolis, North Carolina.